Enjoy The Outdoors Safely
At Zone Protects, we have a passion for getting outside with our families. Whether it be a fun camping trip or just a simple afternoon playing in the backyard with the kids, we believe every family should be able to enjoy the outdoors with safety and peace of mind. That's why we offer a variety of natural Picaridin-based insect and animal repellents, to offer you protection from critters without the use of dangerous chemicals like DEET. If you're looking for an animal repellent solution that's safe for your family, look no further than Zone Protects. Order natural protection for your family today, and read on for answers to your most frequently asked questions!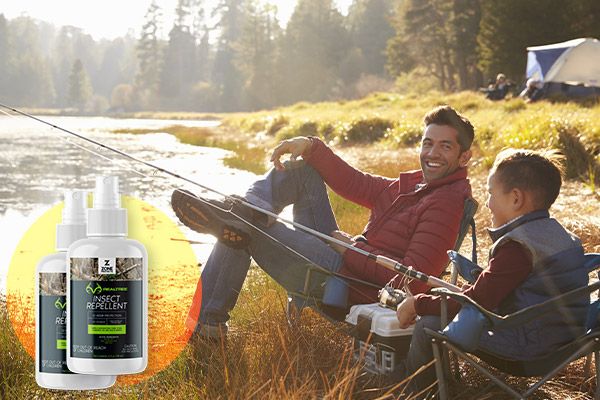 Zone Protects offers Picardin-based repellents that help keep your family safe from a variety of critters, including:
Insects such as mosquitoes, ticks, flies, fleas, chiggers, gnats and no-seeums.

Safe On Clothing & Shoes

No Unpleasant Odors

Animal Repellents: All-Natural Formula
Picardin Insect Repellent FAQs
What is the active ingredient in Zone Insect Repellent?
Picaridin is a safe and effective alternative to DEET that is derived from the black pepper plant.

Is Zone Insect Repellent safe?
Yes, it is safe for adults, children and even pregnant women. We can't yet legally claim that our repellents are pet safe, but our customer testimonials have generally shown our repellents to be harmless to pets.
What does Zone Insect Repellent smell like?
The original scented Zone Insect Repellent has a light vanilla scent. The unscented versions have no odor at all.

Does Zone Insect Repellent stain clothes?
No. Unlike other repellents, Zone will not stain clothes or damage plastics or other gear.

How long does it work?
Zone Insect Repellents have been proven to be effective for 12 hours.

What does it repel?
Mosquitoes, ticks, flies, fleas, chiggers, gnats and no-seeums.

Is it oily?
No. Picaridin is not oily or greasy and has no odor.

Is it safe for the environment?
Yes. There are no impacts on the environment if a bottle of our repellent is spilled.

Can you spray it on clothing/shoes?
Yes. It is effective for keeping ticks and other bugs from attaching to your shoes, socks, and pants.

Is it EPA registered?
Yes. All Zone Insect Repellents are registered with the EPA.

How do you use it?
Spray it on your skin and rub to spread it evenly. For face, spray into your hands and apply to the face and neck areas. Apply it to all exposed skin when outdoors.

How does it compare to natural insect repellents?
Zone is much more effective than any other insect repellents on the market. 'Natural' repellents are not EPA-registered and are not required to provide data for any claims they may make for safety or effectiveness.
Picardin Animal Repellent FAQs
What is in No Holes Animal Repellent?
Zone No Holes Digging Dog Prevention contains natural repellent ingredients, such as garlic, capsaicin, peppermint and cinnamon oil.

What is in Hiss Off Snake Repellent?
Zone Hiss Off Snake Repellent contains natural snake repellent ingredients, such as clove oil, capsaicin, cedarwood and cinnamon oil.

What is in Oh Deer Animal Repellent?
Zone Oh Deer Animal Repellent contains natural repellent ingredients, such as capsaicin, cinnamon and egg solids.

Does Oh Deer Animal Repellent smell bad to humans?
With our extended release action technology and repellent cover-scent oils, Oh Deer smells pleasant to humans, and its repellency effectiveness actually increases after initial application.

How long does it last?
All Zone animal repellents have encapsulated oils that increase their resistance to being washed away by rain. With normal rainfall, applications should last 6-8 weeks. Use as directed.

Is it safe for my pets? Children?
Yes. Zone animal repellents use natural oils that are safe for adults, pets and children when used as directed.

Is it safe for my grass and plants?
Yes. But, it is always advisable to test the products on a small swatch of grass or plants to be sure. Use as directed.

What happens if I get some on me?
Nothing. It is safe for skin. However, if some gets in your eyes, follow the guidelines on the bottles. Use as directed.

Is it EPA registered?
No. Animal repellents using natural oils do not require EPA registration.

How many square feet does one bottle cover?
The 32-oz., ready-to-use spray bottle covers 500 sq. ft. The money-saving concentrate covers 4000 sq. ft.

How do I apply animal repellents?
For the ready-to-use application, shake well and create a perimeter on the ground where you are trying to keep pets or critters out.
For the concentrate, simply shake and pour the entire contents into your own two-gallon garden sprayer, fill with water, and use as directed.
Reclaim your backyard with all-natural insect and animal repellents from Zone Protects today!